Professional own label spot stain removal treatment

When you make a booking of £150.00 or more with Nitro carpet and upholstery cleaning services you get a free bottle of spot and stain remover, use what the professionals use! Ordinarily sold at £10.00 a bottle.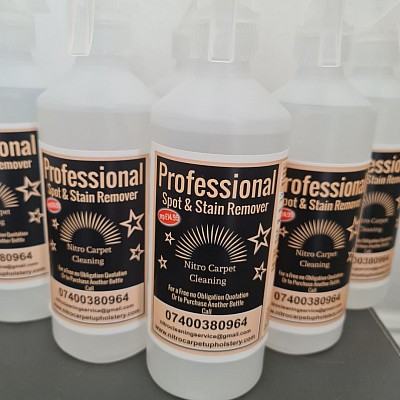 Nitro carpet and upholstery cleaning services own label spotter treatment 
Nitro Carpet Cleaning Spot And Stain Remover
Get one of my own label spot and stain removers delivered to your home address.
Better than any over the shelf stain removers you can buy today.
I use these on a daily basis to professionally remove spots and stains from customer carpets and upholstery.
Sent via royal mail
UA-196475805-1
Nitro carpet stain removals treatment 
My very own popular professional spot and stain removers.
You cannot by this product over any retail counter at the moment as i part formulate this myself and it is something that i use a lot of in my work as it is extremely effective.
An effective general detergent free spot and stain remover that is non-resoiling, leaves no sticky residue will NOT bleach, is enzyme free odourless and non flammable.
Does not affect anti-stain protections which maybe present.
Safe for all washable carpet and textiles.
Directions for use:
Blot fresh spillage with an absorbant cloth such as a WHITE kitchen towl to soak up any excess.
Spray lightly and continue to blot untill stain is removed.
DO NOT RUB, rinse with water and repeat treatment if necessary.
Always prestest in an inconspicuous area before use.