Daily blogs for Plymouth Nitro Carpet and upholstery cleaning services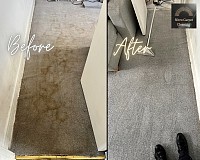 Rug Doctor Restoration 
Another very busy day today !
This appointment was where a customer had previously used a rug doctor on some pet urine essentially diluting and spreading the contamination further into the backing and underlay. 
These machines just don't have the extraction power and use substandard solutions.
Neutralised and extracted efficiently with the correct enzyme solutions with a top up of sanitiser and look at the difference!
Carpet was near on dry before I even left the building 👊